An Economic Appraisal of Composite Carp Culture in West Bengal
Abstract
Aquaculture sector is gaining momentum through its contribution towards Indian as well asworld economy in terms of nutritional and livelihood security. Carp farming is one of the most widely adopted technologies in aquaculture sector. The study was carried out in randomly selected South 24 Parganas district of West Bengal. The study aims at assessing economic viability of composite carp culture through analyzing the cost and returns of the technology. Data were collected from 142 fish farmers through personal interview. The average pond area of the farmers was found to be 1.9 acre and mean fish yield was 3.6 t/ha/yr. Rate of return on total investment (ROI) and Benefit-Cost ratio (B: C ratio) for adopters and non-adopters were worked out as 85.84%; 1.86 and 63.03%; 1.63 respectively. Supplementary feed constituted the maximum share in cost of production of fish followed by lease value of pond and pond preparation cost. The study implies composite carp culture technology as economically feasible with impressive benefit-cost ratio.
References
Ananth, P. N., Sahoo, P. R., Dash, A. K., Pati, B. K., Jayasankar, P. & Singh, S. R. K. (2014). A Study on Community Based Aquaculture Promoted by KVK-Khordha, Odisha, India. Current World Environment, 9(3):947-951
Anonymous. (2018). Annual Activity Report, 2017-18, Fisheries and Animal Resources Development Department, Government of West Bengal. 51pp
Anonymous. (2020). Pradhan Mantri Matsya Sampada Yojana, Department of Fisheries, Ministry of Fisheries, Animal Husbandry and Dairying, Government of India. 26 pp.
Bhuyan, P. C., Goswami, C. & Kakati, B. K. (2017). Percieved Constraints of Fish Farmers in Adoption of Composite Carp Culture in Assam, India. International Journal of Advanced Biological Research, 7 (4): 679-686
Chidambaram, P, Umamaheswari, T., Sherief, S. H. & Rajakumar, M. (2016). Technoeconomic Analysis of Carp Farming Practices in Krishnagiri District, Tamil Nadu, India. Asian Journal of Agricultural Extension, Economics & Sociology, 12(1): 1-8
DADF. (2019). Annual report 2018-19. Department of Animal Husbandry, Dairying and Fisheries. Ministry of Agriculture, Government of India, 162 pp.
Firth, C. (2002). The use of gross and net margins in the economic analysis of organic farms. In: Proceedings of the UK Organic Research 2002 Conference. Organic Centre Wales, Institute of Rural Studies, University of Wales Aberystwyth, pp. 285–288.
Hussain, S. M, Sen, D., Pathak, M. & Singh, M P. (2013). Comparative Study of Composite Fish Culture (CFC) and Local Practices of Fish Culture in East Siang District, Arunachal Pradesh. Indian Journal of Hill Farming, 26(2):32-34
Ifejika, P. I. & Ayanda, J. O (2012). Influence of NIFFR training on attitude of civil servants toward fish farming enterprise in Niger State, Nigeria. Journal of Applied Agricultural Research, 4(1): 33 – 39
Lekshmi, N.M., Praveen, K.V., Sreekanth, G.B., Singh, N.P., Vennila, A., Kumar, R.R & Pandey, P.K. (2019). Economic Evaluation of Different Aquaculture Systems in Coastal waters of Goa, Southwest Coast of India. Fishery Technology, 56, 231-241
Martin, S. M., Lorenzen, K. & Bunnefeld, N. (2013). Fishing Farmers: Fishing, Livelihood Diversification and Poverty in Rural Laos. Human Ecology, 41:737-747 DOI 10.1007/s10745-013-9567-y
Miao, W. (2013). Proceedings of the International Symposium on Small-scale Freshwater Aquaculture Extension. Bangkok, Thailand: Royal Thai Department of Fisheries. 5 p
Nisar, U., Kumar, N. R., Yadav, Y. R., Sivaramane, N., Prakash, S. & Qureshi, N W. (2017). Economics and Resource-use Efficiency in Exotic Carp Production in Jammu & Kashmir. Agricultural Economics Research Review, 30 (2) pp 305-311
Pandey, S. K. & Dewan, R. (2006). Constraints in Fish Farming Practices in Uttar Pradesh, India-An Analysis. Journal of Indian Fisheries Association, 33: 183-189
Sahoo, P. R, Ananth. P. N, Dash, A. K, Pati, B. K, Barik, N. K. & Jayasankar, P. (2016). Institution based intervention on promoting composite fish culture in rural West Bengal: A case of KVK-Khordha. International Journal of Fisheries & Aquatic Sciences, 4(4): 190-195
Solomon, O, Oloruntoba, A. & Ajayi, M.T. (2009). Small scale oil palm farmers' preference for training in south west, Nigeria. Journal of Humanities. Social Sciences and Creative Arts, 4(2):53-63.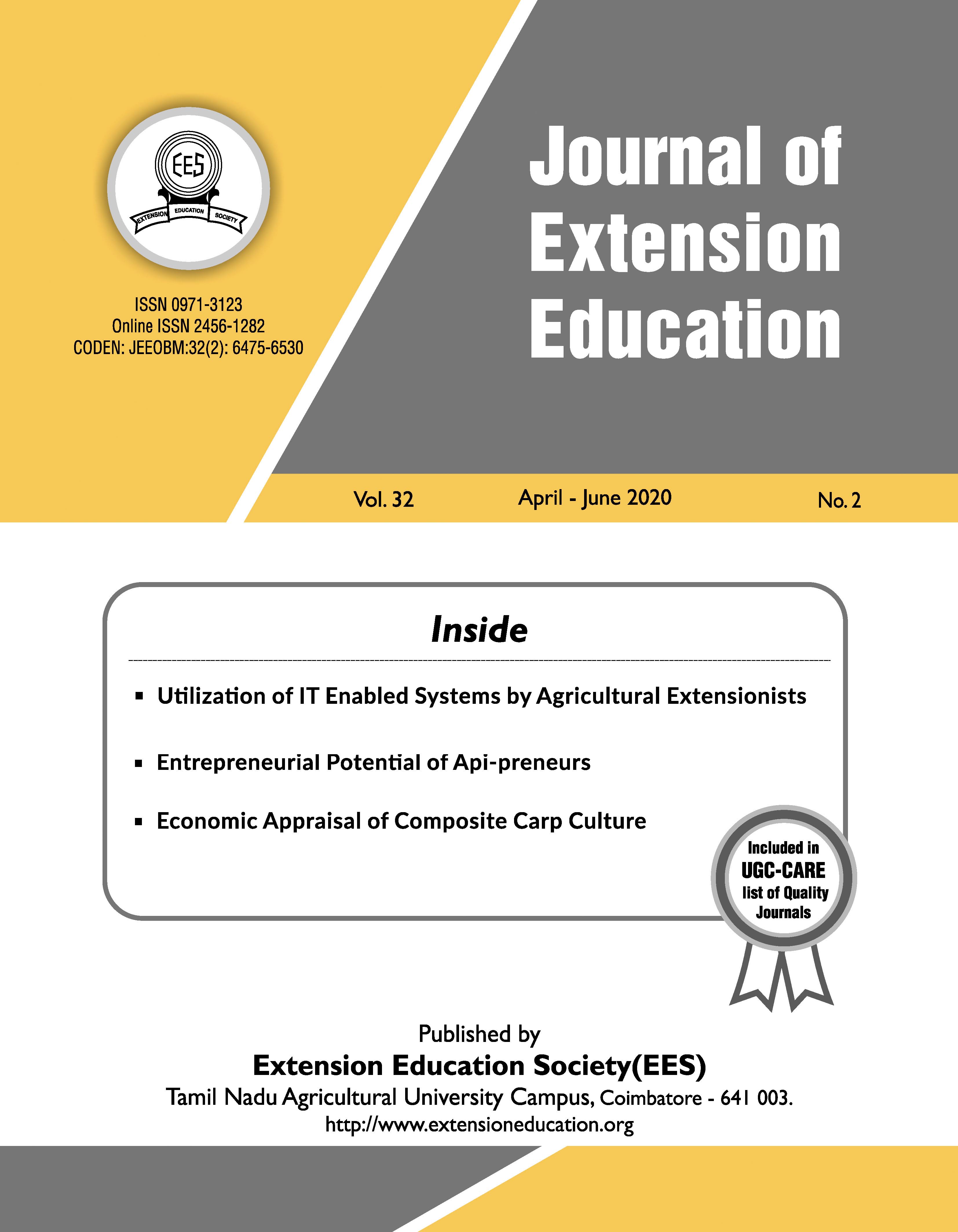 Downloads
How to Cite
De, H. K., Shasani, S., Das, M. K., & Saha, G. S. (2021). An Economic Appraisal of Composite Carp Culture in West Bengal. Journal of Extension Education, 32(2), 6492–6499. https://doi.org/10.26725/JEE.2020.2.32.6492-6499
License
Copyright (c) 2020 Journal of Extension Education
This work is licensed under a Creative Commons Attribution-NonCommercial-ShareAlike 4.0 International License.
Authors who publish with JEE agree to the following terms:


Authors retain copyright and grant JEE right of first publication with the work simultaneously licensed under a Creative Commons Attribution License that allows others to share the work with an acknowledgement of the work's authorship and initial publication in this journal.
Authors are able to enter into separate, additional contractual arrangements for the non-exclusive distribution of the journal's published version of the work (e.g., post it to an institutional repository or publish it in a book), with an acknowledgement of its initial publication in this journal.
Authors are permitted and encouraged to post their work online (e.g., in institutional repositories or on their website) prior to and during the submission process, as it can lead to productive exchanges, as well as earlier and greater citation of published work (See The Effect of Open Access).
Extension Education Society
https://creativecommons.org/licenses/by-nc-sa/4.0/
This work is licensed under a Creative Commons Attribution-NonCommercial-ShareAlike 4.0 International License.